Intermodal Railfreight is now a fundamental part of the UK logistics sector. For the last 20 years we have delivered 'Just In Time' solutions to many high street names and manufacturers. Our rail services benefit a wide range of users in many sectors, typically integrated with road to offer the coverage required by our customers.
By complementing our wider logistics operation with rail we derive the best from each mode of transport using intermodal containers and curtainside swapbody units. Coupled to our rail transport provision is a terminal operation which allows us to offer a wide variety of handling services in line with our multi customer approach.
We launched our initial daily rail service in 2001 and now provide daily and overnight transit between the golden triangle in the UK Midlands and the central belt of Scotland. There are 2 daily train services operated between three terminals providing a crucial link between ports, production facilities and distribution terminals.
Every day we move everything from single pallet loads up to multiple containers for each of our customers. We operated services on 364 days in 2019, moving over 30000 containers on 1200 trains. Washing machines, clothes, food, furniture, garden products all move on our trains. What product could we move for you?
Connecting key locations with rapid rail transport is a major part of our success.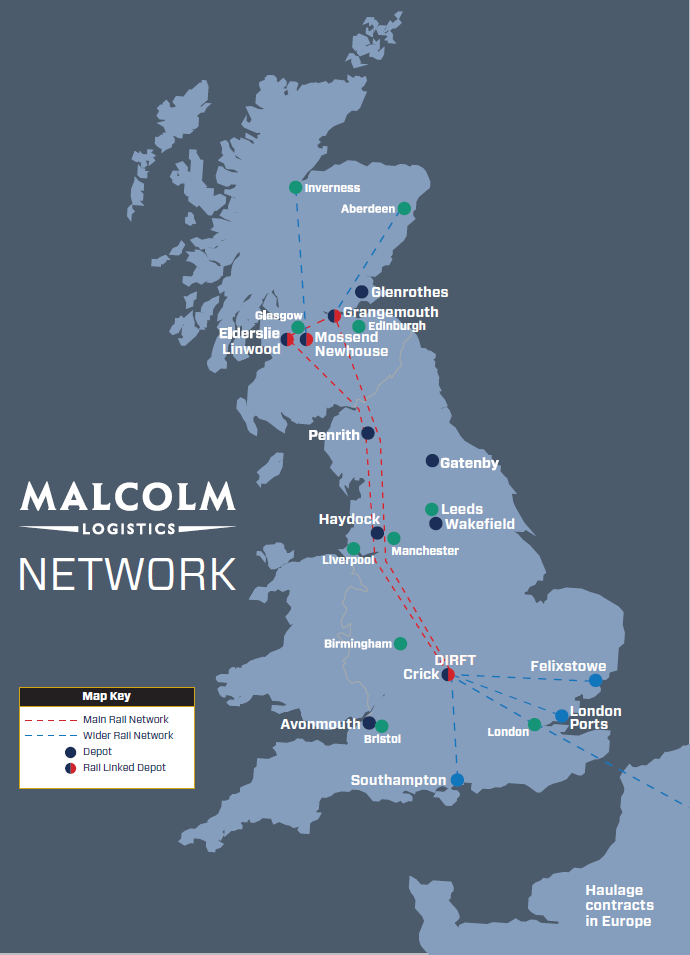 Over two decades operating rail services we have continuously delivered a high level of reliability and delivery performance to our demanding customer base. Road congestion and drivers hours continue to be concerns for every road operator, so we aim to do our long distance trunking by rail allowing us to focus on delivering the goods locally.
Our scheduled services offer high speed transit for an increasing amount of time sensitive deliveries. Often over 80% of the cargo handled is on its way to a delivery point within an hour of the train arriving. Our experienced Rail Team will evaluate your inbound and outbound traffic flows and advise on integrating rail on a dedicated or shared user basis.
Carrying products to market by rail or as part of an integrated logistics solution offers many operational and environmental efficiencies. Developing bespoke solutions is a key part of our business. So, with transit times to match or beat road journeys why not talk to us about what we could do for your business?.
Our standard operating timetable is below.
Direction
Routes
Services
Transit
Normal Cut-Off
Collect From
WEEKDAYS
NORTH
DIRFT to Grangemouth
7 Days
Overnight
20:30
07:00
NORTH
DIRFT to Mossend
5 Days
Overnight
17:00
02:30
SOUTH
Grangemouth to DIRFT
7 Days
Overnight
17:30
05:00
SOUTH
Mossend to DIRFT
5 Days
Day
04:30
17:00
WEEKENDS - Grangemouth Service
SATURDAY
NORTH
DIRFT to Grangemouth
7 Days
Day
09:30
23:00
SOUTH
Grangemouth to DIRFT
7 Days
Day
08:00
23:00
SUNDAY
NORTH
DIRFT to Grangemouth
7 Days
Overnight
20:00
07:00
SOUTH
Grangemouth to DIRFT
7 Days
Overnight
13:00
08:30
The following documents are available for download:
50ft Container Flyer - Download PDF
Rail Flyer - Download PDF