Rail has re-emerged as an attractive freight option and The Malcolm Group's pioneering express services are leading the way. By complementing our wider logistics operation with rail we derive the best from each mode of transport using intermodal containers and swapbody units. Coupled to our rail transport provision is a terminal operation which allows us to offer a wide variety of handling services in line with our multi customer approach.
We launched our initial service in 2001 and now provide daily and overnight transit between the golden triangle in the UK Midlands and the central belt of Scotland. Connecting these key locations with rapid rail transport is a major part of our success and allows us to deliver 'Just In Time' solutions to many high street names and manufacturers.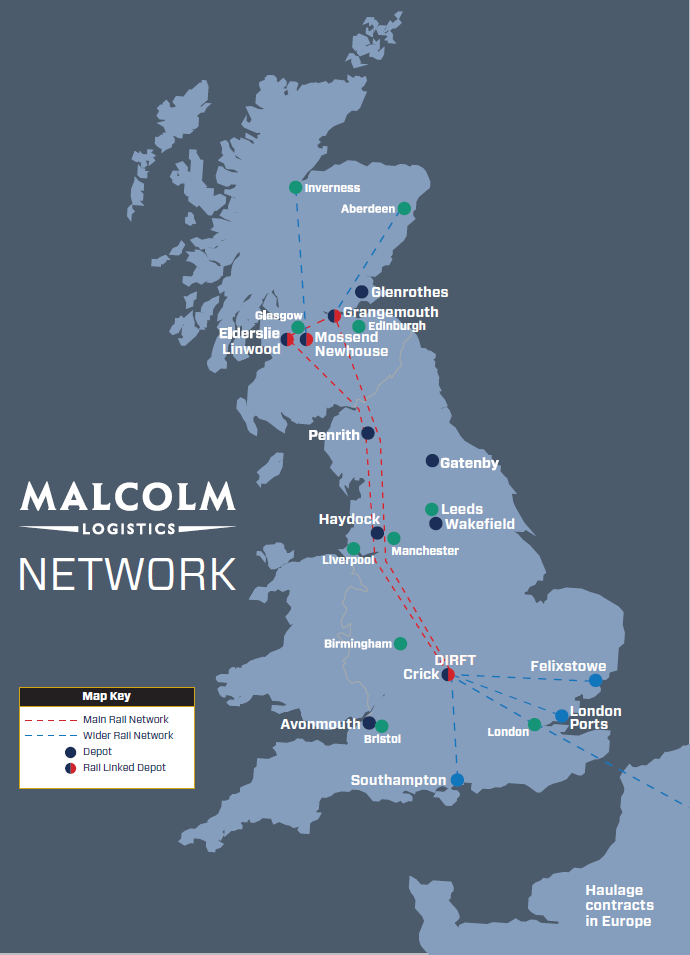 With over a decade in Rail we have continuously delivered a high level of reliability and delivery performance to our demanding customer base. Road congestion and drivers hours continue to be concerns for every operator, so we aim to do our long distance trunking by rail allowing us to focus on delivering the goods locally.
Carrying products to market by rail or as part of an integrated logistics solution offers many operational and environmental efficiencies. Developing bespoke solutions is a key part of our business. So, with transit times to match or beat road journeys why not talk to us about what we could do for your business?